Time 4 Chocolate Coconut Protein Porridge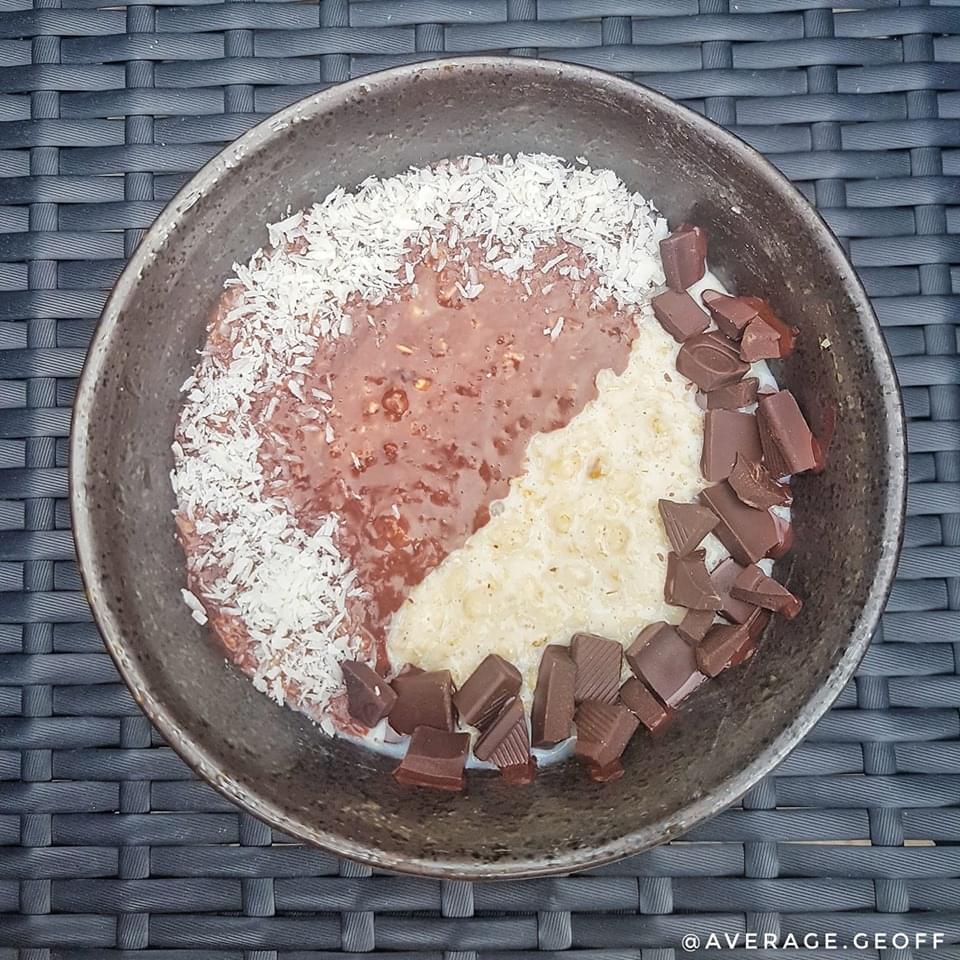 Ingredients
To make this Chocolate Coconut Protein Porridge recipe, you will need:


1/2 Cup Oats
2 Scoops Time 4 Nutrition Whey Protein Vanilla Coconut Flavour
3/4 Cup Milk (can use water and will drop macros down)
1 tsp Dessicated Coconut
15g Dark Chocolate (>80%)
1 tsp Cocoa
Method
Because mars will flat out sue my butt these definitely aren't in the style of a Bounty bar...but they are a taste of...somewhere really nice 😁
Wang the Oats and Milk/Water in a pan or microwave and cook until bloody hot! Next, sling in the protein powder and mix through. (Don't be tempted to mix in the powder before cooking as something weird always happens to make it a strange consistency that I'm just not down with).
Pour half of the mix in a bowl and then stir the Cocoa into the remaining half before pouring into one side of the bowl. Add the topping all fancy or just get busy with a spoon and mix it up!!
Have a belting day, stay strong and get stronger!!! 😎💪👍
Calories: 387
Protein: 32
Carbs: 40
Fat: 11


Try this delicious Chocolate Coconut Protein Porridge recipe today.


TASTY TIME 4 TREATS

We have worked with one of Italy's leading flavour houses to produce some of the best tasting sports supplements available.


Our Time 4 Whey Protein is an ideal product to use to make high protein deserts, protein bars, protein flapjacks and other healthy treats. The flavours are delicious and so easy to work with. Also try using our Essential Amino Acids (EAAs) and Intra Workout (BCAAs) for healthy muscle building slushies and protein jelly.


Also try using our Time 4 Collagen + which can easily be added to hot and cold drinks and virtually any recipe as it mixes easily, is unflavoured, has a very neutral taste and is gluten free, dairy free, lactose free, GMO free, sugar free and fat free.


Our customers are always sending in recipe ideas and we love to share them on our website so you can try them at home. If you have a recipe that uses our products and you would like to share it then please drop us an email with the ingredients, method, and some good images. If you can also work out the macros that would be a great help as this makes it a lot easier to work these treats into your diet whether that would be low fat, low carbs or keto.


Check out our other recipe pages to find high protein porridge, protein overnight oats, protein doughnuts, protein pancakes, protein brownies, protein flapjacks, protein bites, protein truffles, protein cheesecake, protein ice cream, protein waffles, protein cakes, protein yoghurt and much more.