Time 4 Key lime coconut protein cheesecake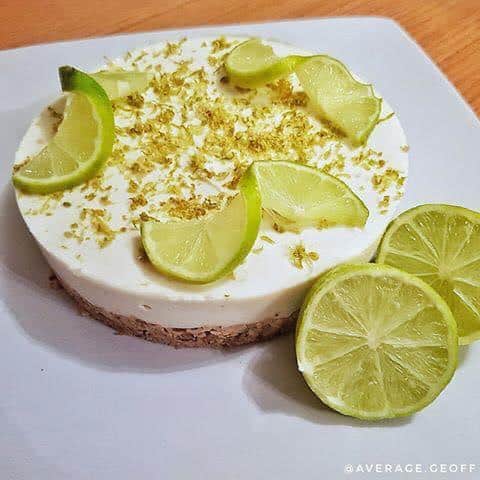 Ingredients
BASE
1 Cup Hazelnuts
1 Cup Dates
1 Cup Oats
1/4 Cup of Dessicated Doconut
FILLING
Juice and Zest of 2 Limes
12g Sachet of Gelatin
1/2 Cup (about 54g) Time 4 Nutrition Whey Protein Vanilla Coconut Milk flavour
1 tsp Vanilla Essence
2 Cups of Quark (0% fat cream cheese)
1 tsp Honey
Method
You'll want to get a 6" loose bottom cake tin for this recipe. Line the base with some baking paper.
Soak the Hazelnuts in water for at least 6 hours but ideally overnight. Add the Dates an hour before draining the lot thoroughly.
Fling it in a processor with the Oats and Coconut until you get a consistent chunky mix.
Press this into the tin and smoosh it down well.
For the filling, mix together everything apart from the Lime Juice and Gelatin.
Heat the Lime Juice in a pan until it's hot but not boiling.
Add the Gelatin and mix until dissolved. DO NOT LET THE GELATIN BOIL.
Add this to the rest of the filling and mix well.
Add this on top of the base and smooth out.
Leave in the fridge for at least an hour and then slowly press out the base and make it look as fancy as you want.