EMOKE'S STORY: DEPRESSED & OVERWEIGHT TO FITNESS COMPETITOR
Emoke's Story: Depressed & Overweight To Fitness Competitor
(Click on Links in Blue for More Info)
Over the last ten years, I have been in a vicious cycle of weight loss and dieting, which has had a detrimental effect on my mental health. It was like I had fallen into a deep hole from which I could find no escape; I felt so depressed, hopeless, and worthless. I used to spend my summers indoors, avoiding interaction with people and just waiting for it to pass. I remember being so jealous of any girl on the street; everyone always looked better, friendlier, and happier than me. This mindset left me feeling so inadequate and caused friction in my relationship.
I constantly blamed myself for not being able to change anything and my life was such a mess. I was so unhappy, and couldn't understand why it was so difficult, if it was just a case of taking one little decision at a time, such as not eating a piece of cake or chocolate. Why couldn't I make those seemingly simple every day little decisions and change my behaviour? Why couldn't I resist temptations, move more, talk to people, make friends, enjoy life?
Although I was very familiar with exercise and nutrition, as I was a qualified personal trainer and used to work in a leisure centre, this did not motivate me nor gave me the incentive to lift myself out of my depressed and overweight state.
However, in the summer of 2021, I decided that something needed to change for good!  I can't explain what was different this year; it could be the combination of me getting older, the level of unhappiness I was experiencing, and the feeling of wasting my young life and body.
I joined a gym and met Lou, my current coach. His enthusiastic approach, high energy and positivity were exactly what I needed at that moment. He was someone who believed in me and motivated me. I told Lou, that I not only want to lose a substantial amount of weight, but I also wanted to compete as a bodybuilder, as it had long been a dream of mine. I also told him about the 90-day Ultimate Fitness Event's Transformation Challenge had I signed up for. The aim of this was to enable people to change their body shape and/or mindset around food in 90 days and then at the end, present themselves on stage.
Along my journey I was introduced to Darren Deane (DD) from Cheetahs gym, who also runs Traact Nutrition. This is a specialist platform designed to provide dietary advice to professional athletes. He devised a tailored diet plan to help me to achieve my goals and to step on stage in the best shape of my life. It was based on the KETO approach (i.e., no carbs, dairy, refined sugar) and also involved a number of Time 4 Nutrition products.
These include:
Time 4 Vegan Protein Powder provided me with an excellent source of high-quality plant-based protein. It also tastes good and mixes well. 
I used Time 4 Burn, which is a fat Burner, in the last few weeks prior to the show to achieve a very lean look when I couldn't restrict my diet any further.
I used Time 4 Water Pro to get rid of the excess body water in the last few days before the show, which gave me greater definition.
I used Time 4 Pre-Workout to give me the much needed energy and focus to get the very best out of my demanding workouts.
Time 4 Essential Amino Acids (EAAS)
Time 4 Essential Amino Acids were used to boost the amino acid content of my diet to optimise muscle growth, repair and recovery but without significantly increasing my calorie intake.
To be honest, I have always been sceptical about using supplements and worried about potential side effects, but I had no issues at all and feel very safe taking them. All of the Time 4 Nutrition products are evidence based. They provide you with the research to support any claims and to allow you to increase your understanding of nutrition and supplements.
I am ever so proud that I not only completed the 90 days challenge of body transformation and lost 11kg, but moreover I competed as a fitness athlete, trained hard over the summer, as well as running a household, looking after my son and still being a full-time Operating Department Practitioner student, which involved long placement hours.
This journey was a phenomenal experience I will never forget, and it's something I want to do again in the future, after graduation. Bodybuilding and fitness are a new way of life for me. They have given me special purpose away from my everyday routine of work-family-study life. They have lifted me out of my depression and led me to be more open with people, to trust again and make friends. It has brought special people into my life, who I will always treasure for believing in me.
If you are in a similar situation to me, I hope my story will inspire you to make the changes needed for you to become happier and healthier.
They say a picture paints a thousand words. If that's true, I think my before and after pictures say much more than I ever could.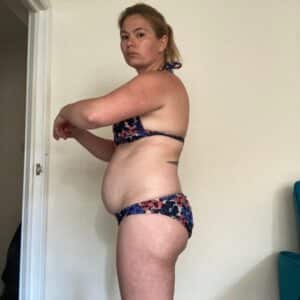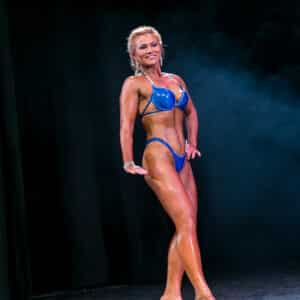 To Follow Emoke Kis On Here Instagram Profile: CLICK HERE
We Hope You Enjoyed Reading Our Case Study: Emoke's Story: Depressed & Overweight To Fitness Competitor.