TIME 4 NUTRITION ARE PROUD TO SPONSOR WEIGHTLIFTING SCOTLAND, WESTERN DISTRICTS 17TH SEPTEMBER 2022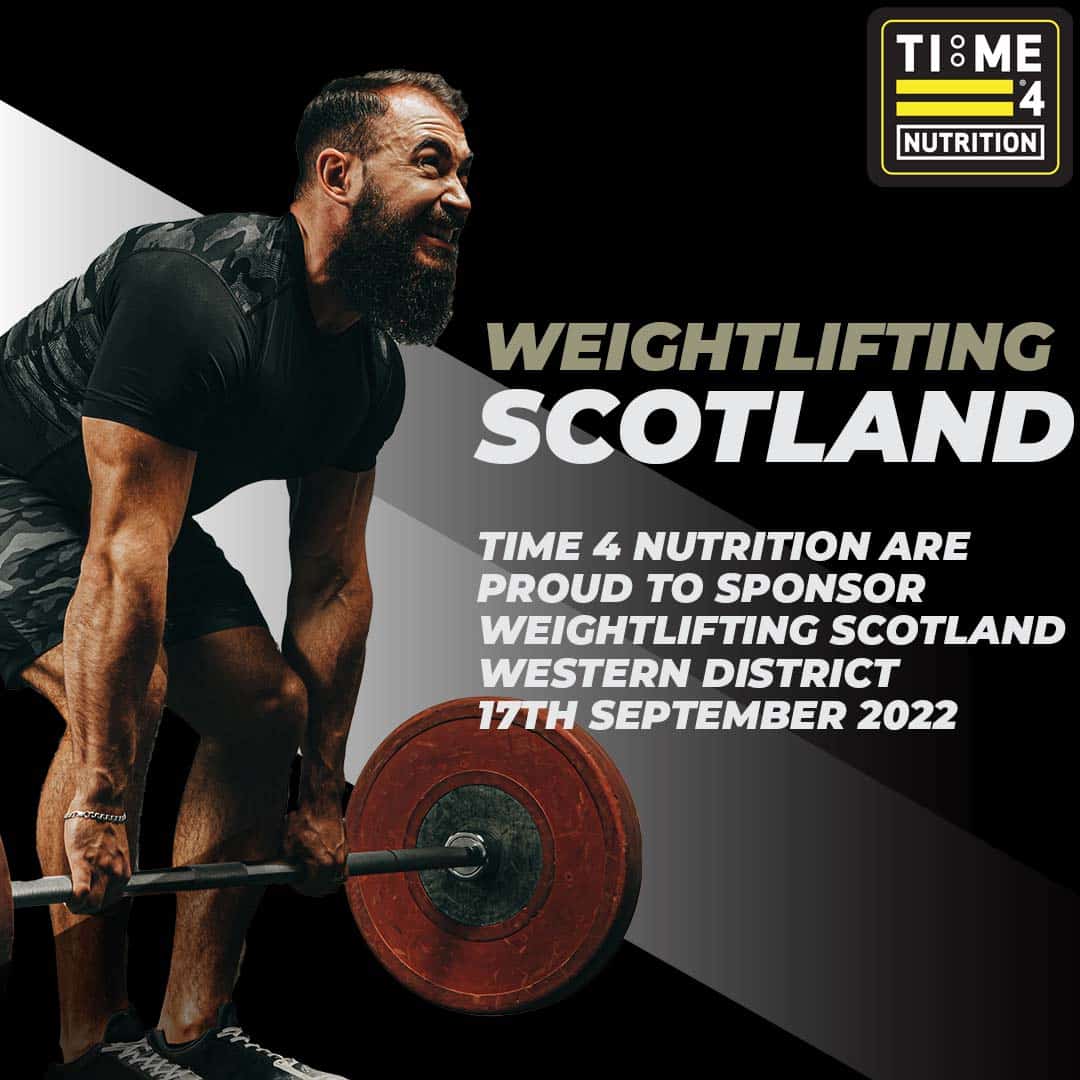 TIME 4 NUTRITION ARE PROUD TO SPONSOR WEIGHTLIFTING SCOTLAND, WESTERN DISTRICTS 17TH SEPTEMBER 2022
Venue: TBA
Date: Saturday 17th September 2022
Click on their link below for more information on their events.
Weightlifting Scotland are the National Governing Body for Weightlifting in Scotland.
We have a board of directors that deal with the day to day running of our organistion for administration to organising competitons.
We also run British Weightlifting courses and have a Scottish based satellitie centre for courses to be organised with all financies coming directley back into our sport.
Weightlifting Scotland aims to increase our membership and produce coaches that will help us acheive this as well as our current coaches in the clubs around Scotland.
We are an inclusive organision which aims to promote our sport throughout the country and further afield.
We will be keeping our members updated with dates of competitions, rankings, records and policy and procedures
Time 4 Nutrition
We are a UK based company trading across Europe with the vast majority of our products being developed and manufactured here in the UK by our own team of industry professionals from the fields of nutrition, biochemistry and exercise with decades of industry experience.
We support many UK events, particularly those that are held by our customers, whether they are a gym, shop or personal trainer.
We take an interest in and support a range of events involving strength, health, fitness and combat. We are the main sponsors of the
UKBFF (United Kingdom Bodybuilding & Fitness Federation)
, and have also supported a number of other events, including Strongman, CrossFit, MMA and boxing.
We employ an evidence-based approach to all of our products and provide access to peer-reviewed research papers from many of the world's leading scientific journals to support their use. We are very passionate about what we do and feel that is important for our customers to have access to high quality information on all aspects of nutrition and exercise, not just our products. To this end, we provide an extensive free on-line library of fully referenced articles to provide you with the most up-date information on many health and fitness topics. So whether you are trying lose body fat, build lean muscle mass, improve athletic performance or just enhance your general health and wellbeing, we are sure you will find something of interest,
To make sure you don't miss out on exciting developments in the supplement world, and new products and promotions, just sign up to our newsletter and join the Time 4 community today.