TIME 4 NUTRITION ARE PROUD TO SPONSOR THE UKBFF POSING COURSE 27TH JUNE 2021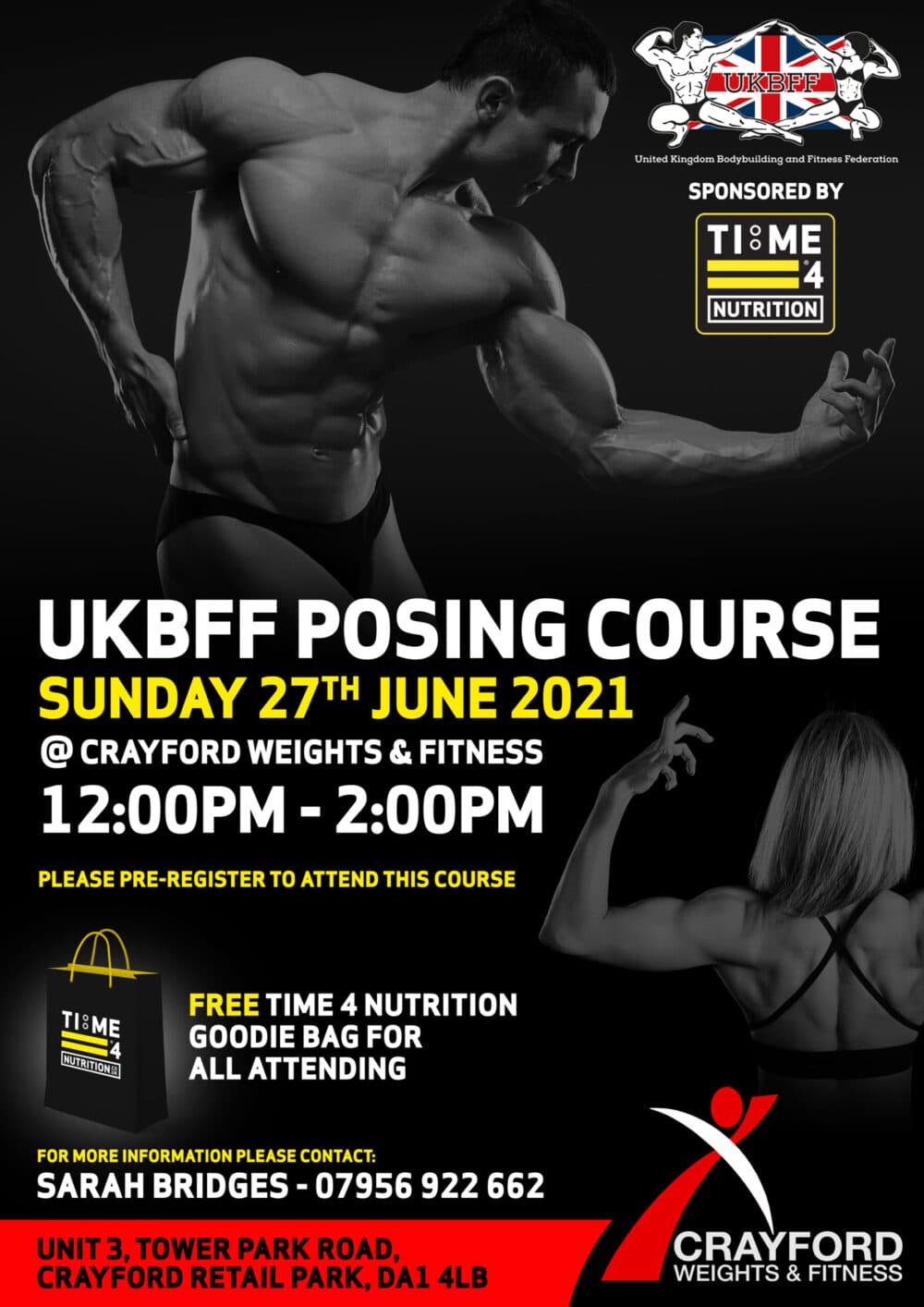 UKBFF POSING COURSE SPONSORED BY TIME 4 NUTRITION
Sunday 27th June 2021
Venue: Crayford Weights & Fitness, Dartford, DA1 4LB
Start Time: 12pm (Midday)
This event is open to all athletes from all federations.
Get yourself booked in and enjoy learning from the judges how to really make the most of showing off your physique on stage.
Everyone attending will receive a Time 4 Nutrition Goodie Bags absolutely free of charge.
This event is being held at Crayford Weights & Fitness owned by Paul Knight and has got to be one of the best equipped gyms in the country.
Why not book in and have a workout first.
For more information please contact:
Sarah Bridges – 07956 922 662
Or check out the Facebook Group:
2021 has started and we know that a lot of athletes are very eager to compete and stand on stage again but…it is still of the utmost importance that we fully ensure the safety of our athletes and judges during these uncertain times.
A few of our competition venues are now used as VACCINE CENTRES, which is very important for the whole of the UK to get to a kind of "normal" again. Therefor we are in contact with various different sports venues to do our competitions this year.
Due to the Covid-19 pandemic, there have been a lot of restrictions in place for well over a year, which affected everybody in the world, including all sports.
For this reason the UKBFF would like to inform the athletes, that we are relaxing the rules.
Keep traing…………….and STAY SAFE
We are a UK based company trading across Europe with the vast majority of our products being developed and manufactured here in the UK by our own team of industry professionals from the fields of nutrition, biochemistry & exercise with decades of industry experience.
We employ an evidence-based approach to all of our products and provide access to peer-reviewed research papers from many of the world's leading scientific journals to support their use. We are very passionate about what we do and feel that is important for our customers to have access to high quality information on all aspects of nutrition and exercise, not just our products. To this end, we provide an extensive free on-line library of fully referenced articles to provide you with the most up-date information on many health and fitness topics. So whether you are trying lose body fat, build lean muscle mass, improve athletic performance or just enhance your general health and wellbeing, we are sure you will find something of interest,
To make sure you don't miss out on exciting developments in the supplement world, and new products and promotions, just sign up to our newsletter and join the Time 4 community today.